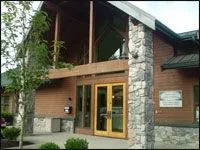 At South Lake Family Dentistry we believe in providing highly personal, quality dental care. Our office offers a comfortable, relaxed setting with TVs in every room for both entertainment and patient education. We utilize the newest technologies, such as digital x-rays for your protection and convenience. Also we offer single appointment esthetic porcelain inlays, onlays and same day crowns. Our experienced and well-educated staff looks forward to working with you. It is our goal to provide exceptional care. Rest assured that you will receive the highest standard of service.

South Lake Family Dentistry is operated by Dr. Todd V Miesel who has been a member of the Lake Stevens community for 20+ years. We treat our patients like family and enjoy getting to know each and every one of you!
Modern Dental Equipment
Digital X-rays/3D X-rays
Clear Aligners
Intra-oral Photography
Same Day Crowns
Oral Sedation
Implant Crowns
Financial Policies
We appreciate you for choosing our office for your dental care. Our primary goal is to provide exceptional treatment at an affordable cost. In an effort to provide high-quality care to all of our patients, payment for services is due in full at the time services are rendered. We accept cash, checks, Visa, MasterCard, and American Express. Third-party financing is available through Care Credit. If you need to make special financial arrangements they must be made prior to the day of your appointment. Please reach out to our front office staff for more detailed information.
While we accept most insurance companies, but we are a Preferred Provider for only Delta Dental . We provide complimentary electronic billing of your insurance claim to your insurance company to ensure quick and efficient payment of your dental benefits. Please be aware that even if you have dental insurance, you are responsible for any deductibles, co-pays, and any amount that we have estimated your insurance company will not cover at the time of your appointment. In the event your insurance pays for more than we have estimated, you will be promptly refunded for any overpayment. Please note that all charges are the patient's responsibility if the insurance company does not pay on estimated procedures.
Balances held over 60 days will be charged interest of 7% a month. Delinquent accounts after 90 days will be sent to collections with added service fees. Please make sure we have to correct dental insurance on file prior to your dental appointment.
Aligner Policy If your insurance offers orthodontic coverage, Our aligners are normally covered to the same extent as conventional braces. Regardless of whether or not insurance is involved, due to the high overhead cost, we require a down payment of roughly $2000.00 of which is non-refundable. (case by case basis) This payment is due on the day that you come in for initial impressions to be taken. Payment plans are a case by case basis and must be completed before your last set of liners are received. If you need further assistance with financial arrangements, please ask our front office staff. There may be other options available for you to consider.
Don't have Dental Insurance? We carry an in house Dental Discount program, please ask about it when you schedule your appointment. If you would like some details, please call or send us an email and we would be happy to go over what we offer.
Cancellation Policy If you are unable to keep an appointment, we ask that you kindly provide us with at least 48 business hours notice. We ask for this advance notice so that we can offer this appointment to another patient. We may need to reschedule if you arrive 15 mins late or more to an appointment. Please keep in mind there is a fee for appointments not kept or rescheduled within 48 hours.
Thank you for trusting us with your smile :)